The " Shemo " (She Moe) is a cross between a pure bred Shiba Inu, and a pure bred Miniature American Eskimo.
The Shemo matures to approximately 20 lbs in weight and 12-15 inches at the shoulder.
The Shemo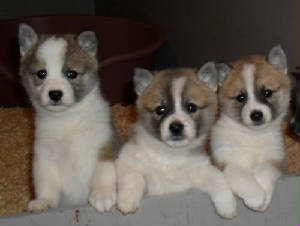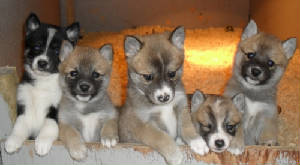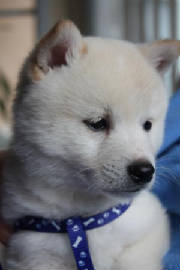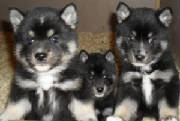 Puppies available at this time
email and find out more!

Our Daddy Dog
Shiba Inu Male
"Lil Man"
20lbs
15 inches at the shoulder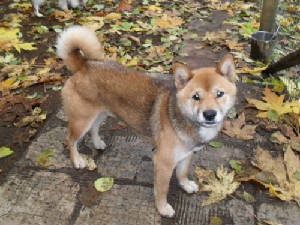 Red Shiba Inu male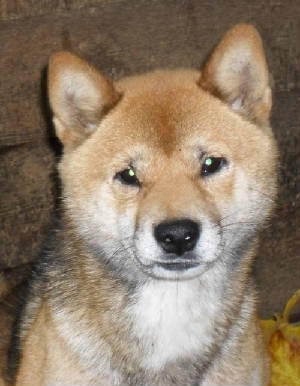 Our Mommy Dog
American Eskimo
"Megami"
20 lbs
14 inches at the shoulder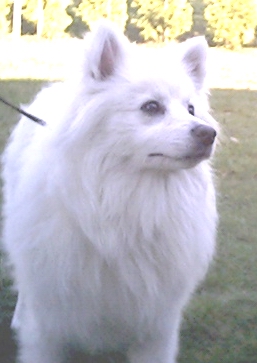 All of our puppies are well socialized! Happy, Healthy doggies!
Shemos make a wonderful family pet!
Our puppies are Vet checked, dewormed and 1st vaccination is done before they leave to go to their new homes. A small gift bag accompanies all puppies. The gift bag contains enough food to ween them onto what ever your choice of food might be, a harness or collar and leash, a blanket and a toy.
Their health record will also be in the gift bag.
We free feed our puppies a Chicken and Rice based dry kibble.
Free feeding means that there is always a bowl of kibble and water available for the puppy.
No canned food is necessary for puppies at 8 weeks of age.
The Shemo is very easy to house break. Please ask for more information once you have put a deposit down on your puppy.
Shemos are priced at $750 To reserve your puppy I require $375 deposit and the balance to be paid when puppy is picked up. When the puppy is picked I will send a picture to confirm which puppy you are putting the deposit on. At that point, when the picture is confirmed to be the puppy you picked, the deposit is NON refundable! I do not accept cheques, money orders or bank drafts.
Cash or Email transfers only! Please
or phone Debbie at 250 937 1212